Our Customized Sales Training Programs Increase Your Sales Team's Skills that Grow the Bottom Line
Sales Training Programs
From prospecting to consultative selling, negotiation, account development, and sales management, our suite of sales training programs has your sales team covered. We transform your sales representatives, sales managers and sales executives into expert Consultative Selling professionals.

Our Sales Training programs are customized to meet the specific needs of the sales associate and the company. And we always perform a thorough and detailed consultation and information gathering session with our new clients.
Why Train Your Sales Team:
In today's extremely competitive business environment, having any advantage over the competition is critical. One of the most important tools that a company has to ensure that you stay one step ahead is a strong sales team.
A trained sales team will generate new opportunities which can lead to huge returns for a company. The better trained your team is, the better results for your entire organization.
Learning Outcomes of our Sales Training Programs:
Rethink, retool and refine the sales process
Refine and use a Unique Selling Proposition as a tool to help your company stand out from your competition
Effectively communicate with the different generations within your customer base
Conduct a competitive market analysis and learn how to use it to your selling advantage
Use pre-planned follow-up strategies to move your customers through the sales pipeline
Practice, drill and rehearse sales presentations by interactive role playing
Remove customer objections using proven strategies that move customers more quickly through the sales funnel
Use the latest proven closing techniques to win more sales
Use negotiating skills to arrive at a win-win outcome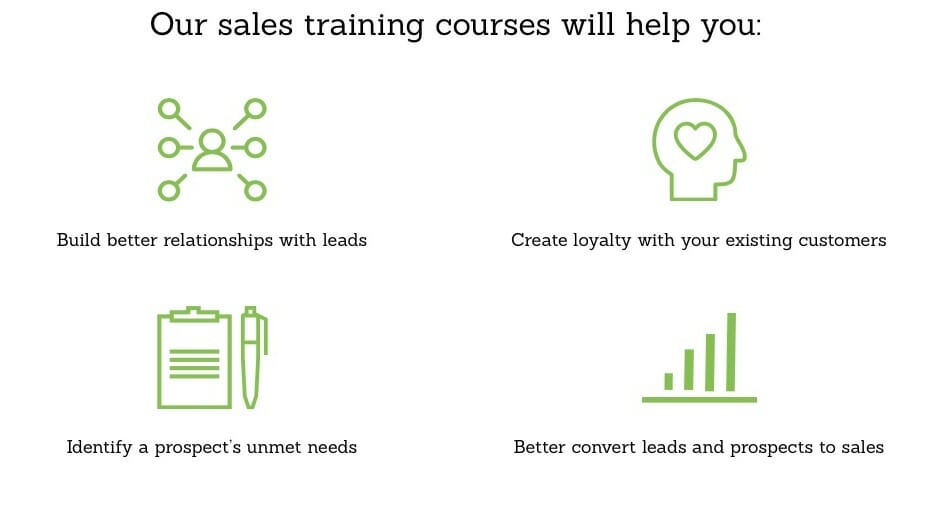 Contact us today for a free consultation on how we can help you achieve more!
Any investment in sales training is an investment in your own gross profits." Roy H. Williams
Start Developing a Stronger Sales Team Today!
Contact us for more information